Custom Sunless Airbrush Tanning
Several locations offer not only sunless tanning in one of our state of the art sunless spray booths, but also offer an even more custom service, Custom airbrush sunless tanning. With our Custom Airbrush option, a certified spray tan technician applies a truly flawless tan, in the privacy of your own tanning room. By having a certified technician apply your sunless tan as opposed to our booth, color can be adjusted during the session and trouble areas can be more easily addressed.
WHAT IS A CUSTOM SPRAY TAN?
A custom spray tan is a 1-on-1, personalized, spray tanning session with a professional sunless technician. The spray tech, using a high-pressure spray gun, will apply sunless solution to the areas you desire during your scheduled session. Sessions often include full-body application, legs only, or facial sprays. By allowing a professional to apply the spray solution you can ensure a flawless even application, especially on hard to reach areas such as the back. Sunless sessions usually last around 15-30 minutes (this includes drying time) and results can be expected to last 5-7 days.
BENEFITS OF A CUSTOM AIRBRUSH TAN
Boost your self-confidence, feel fantastic, look radiant and be the envy of your friends.
Maintain a healthy, natural, golden glow anywhere and anytime.
Provides a smooth, streak-free, even application.
Accentuate your features and appear slimmer.
Even out skin imperfections, minimize the appearance of stretch marks & varicose veins.
Perfect for special occasions, spa parties, bridal parties, prior to vacations or last minute tanning.
Allows for the tanning of specific body regions or hard to tan areas.
Eliminates tan lines.
Quick and Convenient alternative to traditional tanning.
Choose your desired level of darkness and achieve instant results.
Combine with a short UV Tanning stand-up session for a 'tanning cocktail' allowing accelerated tanning results.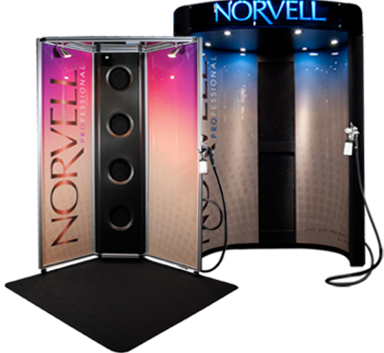 Available at the following salons: